Darren Miguez has a pattern of accomplishments. He was the head of the Youth Services Department at Old Bridge Public Library for five years, then became the director.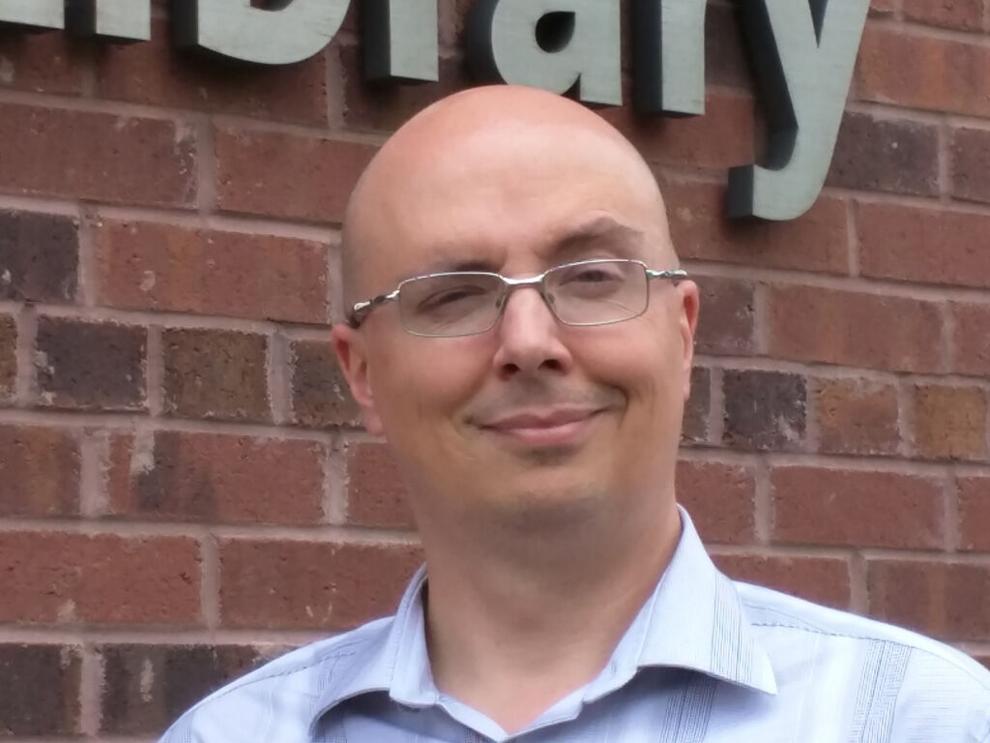 He's now embarking on that familiar journey again, first having started at Plainsboro Library in the same position in 2015.
Miguez has been the acting director since April, navigating the pandemic and bringing the township together as a central space. He was officially named director by the library board of trustees on Sept. 10.
"The community is not a tiny town or a village or some such," Miguez said. "It's pretty large, and it's got various demographic groups existing all in one space that aren't necessarily nicked together, and our hope is that the library can be this connective tissue."
"We're looking to connect with folks, and not just be a passive institution that is a book hoard," he said.
Miguez was born in England, then relocated with his family to Las Vegas, where he graduated from the University of Nevada and worked at the Rainbow Public Library. There, he met his wife, Lauren Ryan, who worked as a reference librarian. They have two children together and currently reside in Branchburg.
Before being named director, Miguez said the Youth Services Department focused its attention on children's events in the STEAM fields, making the science center a primary feature of its outreach.
The department offered 3D printing to the public, conveyed meaningful technology initiatives to younger audiences, and maintained its status as a pillar of the community.
Miguez, who has a master's degree in library and information science from the University of North Texas, founded the Teen Advisory Board, which gave that age group a platform for what they wanted from the library.
"A lot of focus is on adults and parents with children, but not the actual teens, who do, after they get out of high school, tend to come to the library and flock there as a place to study and just hang out, rather than go home," he said, disclosing that their focus group was the most well-attended of the ones previously held at the library.
"TAB has been a really good element of the library's outreach to a community group that sometimes I think libraries kind of put up with, but don't embrace," he said. "They've made their presence known in a lot of ways throughout the library, facilitating across every floor, frankly."
Miguez helped start the Idea Farm maker space through a state grant, first trying out the "informal workshop" in Old Bridge, but learning from that experience when taking the idea to Plainsboro.
He said they did more research, getting a mix of Prusa 3D printers like the i3 Mk3 and Mk3S+ printers. The director advised that anyone looking to start similar projects should first get it as a kit to put together themselves.
"Since most libraries are going to be doing their own service on their machines and maintenance and so forth, having put it together from the skeleton up to the fully functional machine, I think pays off in the long run, because you also help folks," he continued.
For those in the Plainsboro area who have 3D printers, Miguez can help diagnose their issues with first-hand technological knowledge, leaning into the "engineering side" of the machine.
Additionally, the library kept its traditional programming alive, including events like the egg drop challenge and a summer reading competition.
"Our big focus, really, is kind of hands-on learning and creativity as a thing that folks can engage with in the library, as opposed to just taking out containers full of information or knowledge, and kind of absorbing them. We want folks to have an experiential element to their education," he said.
Miguez said that as director, he wants to restore the library to its original pre-pandemic glory.
"I think the big challenge that I'm looking at is how do we reconnect people with the library after a year of either being fully closed down during the height of the lockdown, or offering only partial service when we were doing curbside pickup, and trying to figure out ways to serve the public without being open like we used to," he said.
The Plainsboro Library is experiencing lower foot traffic, as are many other public spaces, Miguez noted, but he said an "unfortunate" aspect about the township is that residents who moved there from other countries are losing opportunities to become integrated in the community that the library had once offered.
Stressing the importance of that face-to-face time, the library is usually at events like new parent's night held at the schools, attempting to bridge the gap between countries without a cultural history of free libraries.
"It's kind of a new thing for them. You have to actually kind of walk them through the concept, that yes, it's not a bookstore, you can take these, just please bring them back in three weeks, and take more home," Miguez said.
The director is proudest of the feedback from both their English as a second language classes and Plainsboro Pals, a social club that connects people in similar situations with "a built-in support group," calling that bond a core part of the library's mission.
"Because of COVID, we didn't have that contact point for many of the new residents of the town, and I need to see us seeking out ways to reconnect," he said. The department heads and librarians are in constant collaboration to see what approaches they can take.
"I've got a few ideas we're gonna be putting into practice, [like] seeking out groups in the community that we can connect with, and learn the needs of to better serve them," he said.
Their other big plan is to redesign the third floor, which currently serves as the children's department, but the library is waiting to see if they won a grant with the state to fund half of that endeavor­. If not, fundraising will be key.
The floor was initially designed with the younger demographic in mind, primarily geared towards story time and preschool-age children.
"But as we've seen since the library moved into this larger building in 2010, what the public has really embraced with a larger floor plan is it's a place they trust, that they can hang out, study, read, send their kids to get tutored, hang out with friends if they're in high school or middle school, and do group work, but also socialize," Miguez said.
"The third floor, which should be serving babies up through high school, in theory, doesn't really serve all those age groups, so the revised floor plan will open up the space for seating for all those ages—and it won't put so much pressure on the first-floor seating to be a place for adults, [where] kids and teens can coexist with a limited number of seats and a lot of demand."
His dream is to have children interacting in their expressive natures on that third floor, as well as add canopies to the balconies to use them over the course of the year. This would be a way to utilize that popular space despite the weather, where programs like yoga could be offered.
The library currently has planters there through a healthy living grant, but if the space allows, they want to expand their garden beyond the tomatoes and strawberries that can handle direct sunlight.
"I think [it] could give us more options for the public and maybe allow us to grow foods that they're more familiar with or have better access to in terms of equity of food. That's a big project, that's a heavy lift that we're in the middle of planning how to actually implement it. We've got the architectural information and now it's a matter of are we gonna get the funding," he said, aspiring to have that accomplished sometime in 2022.
During the early stage of the pandemic, the library tagged every book with an RFID chip so they could use self-checkout stations without having to interact with staff, using their downtime to track over 140,000 volumes.
"We were looking for ways to make lemonade from the lemons of COVID," he said. "People can come in, grab their books, check them out themselves in just one quick transaction, and they're off to the races."
Those without an extensive knowledge of the library might assume that they only supply books, but to accommodate modern audiences, they have services and electronic resources like digital magazines or audiobooks, the latter which were popular during the lockdown.
Under his guidance, Miguez wants to make the library a place built on communication.
"We need to listen to the community and find out what they need rather than assume we know what they need," he said. "I want us to be much more dynamic and tuned into what our community needs and wants, and also identify commonalities where groups can benefit from being put in touch with each other. If our librarians realize there are folks dealing with the same problem from different directions, putting them in touch seems like a way to be that connective tissue that a library should be," he said.
"We're about information, and sharing information amongst these different elements of the township, [which] I think benefits everybody and the strength of us overall."