There are several reasons why the Notre Dame High baseball team won its first eight games by averaging 13.5 runs per game.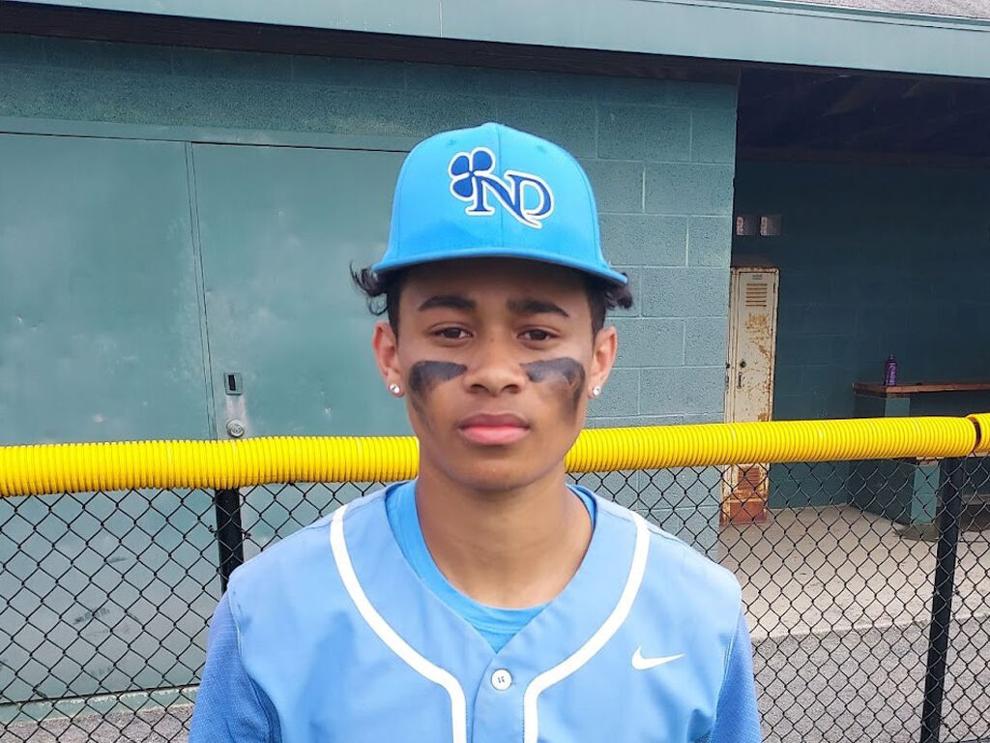 One of them is at the very top of the lineup, where Dylan Palmer wreaks havoc as the Irish's leadoff hitter.
The senior from West Windsor had hit safely in seven of ND's first eight games and reached base and scored at least one run in every game. He was batting .560 (14-for-25, two doubles, triple) and with seven walks had an on-base percentage of .656 with 12 stolen bases and 21 runs scored. He had four multi-hit games and scored between two and four runs seven times.
"That's what I strive to do, hit every single pitch that's in the zone, get on base and steal and score runs," Palmer said. "I'm not a big power guy. I have to put the ball in play and as soon as I get to first, I'll be able to steal second and third."
His speed also puts pressure on the defense, to the point where he will often reach base on errors from infielders rushing their throws.
"Dylan is an excellent player," coach Joe Drulis said. "He's been such a great senior leader this year. Dylan does a great job of making the defense think of his speed. It's that one little juggle, and now he's on base. He'll steal second or there's a wild pitch and now he's on second, so he just sets the table for us. He's such an important part of our offense."
Palmer knows just how important he is, which is why his motor is on high at all times.
"I'm running every single ball out, whether it's to the second baseman or deep in the hole," he said. "When we played North I beat out a ball to second base the first at-bat of the game.I'm gonna run as fast as I can and make them make errors. When you put the ball in play good things happen."
Another part of his arsenal are good baserunning instincts, which are exactly that – instinctive.  
"Sometimes in baseball you can't tell the player what to do, take the extra base or read the ball in the dirt," Drulis said. "The coach can't say 'Go' because it's too late. Dylan has that high baseball IQ to read the ball in the dirt, take the extra base and make something happen for us."
Palmer started playing baseball at age 5 in the West Windsor Little League. He also played travel ball for Gallagher, the West Windsor Warriors, and Time To Sign, which helped him secure a scholarship to play for Hofstra.
He also played one year of Babe Ruth Baseball. Dylan played with Gallagher from age 11 to 14 and never bore them any ill will for cutting him twice.
"Back then I was really small," he said. "My hard work really started paying off my sophomore and junior years and I think I've really developed from there."
Palmer still isn't what you would call big, as he stands between 5-8 and 5-9. But he has turned  the size disadvantage to a mental advantage as it fuels his desire to prove folks wrong.
"My whole entire life, I've never been given anything and I've always had to keep working my butt off," he said. "It's worked out."
Dylan played in the West Windsor-Plainsboro North program as a freshman before transferring to Notre Dame. Forced to sit his sophomore year due to the Covid 19-shutdown, Palmer showed a preview of what he could do last year when he hit .440 (22-for-50) with 15 walks, six doubles, 10 stolen bases and 26 runs scored.
"Last year he came in and had a phenomenal year," Drulis said. "This year he's hitting the same but he's getting on base more and making stuff happen. He jump starts us and he's done a great job for us and that's why we're 8-0."
Palmer also plays a quality shortstop, and this year he and senior second baseman Jackson Wargo have even volunteered to pitch some innings.
"This is the first year I've ever pitched," he said. "Anything to help the team. We knew we had the bats before the season started. But we didn't know about the pitching. Whatever I could do to help this team win, I'm gonna do, and I've gotten pretty good at it."
For a non-pitcher, Palmer has a variety of weapons including a four-seam and two-seam fastball, a change-up, curveball and slider."
And where did he gain such a vast array of pitches?
"I played wiffle ball with my brother all the time," he said. "That's where I learned it."
He continues to learn every time he takes the field, and his insight for the game coupled with his skill set impressed Hofstra head coach Frank Catalanotto and assistant Chris Rojas during some games at Diamond Nation last summer.
"They saw me play a couple times and I really showcased my speed," Palmer said. "They don't have anyone like that in the program. Just a bunch of power guys. They're trying to rebuild the program to a small ball program and that's exactly what I fit."
Palmer is a member of Notre Dame's Catholic Athletes For Christ organization, and he played ice hockey for the Irish as a sophomore. But that was just a hobby compared to the diamond.
"I love anything about baseball," he said. "It's my first love. There's nothing like playing the game. This is the favorite thing to do in my life. All the stress that's going on in your life, you just go on the field and it all goes away."
Unless you're an infielder fielding a ground ball by Palmer. Then the stress is just beginning.