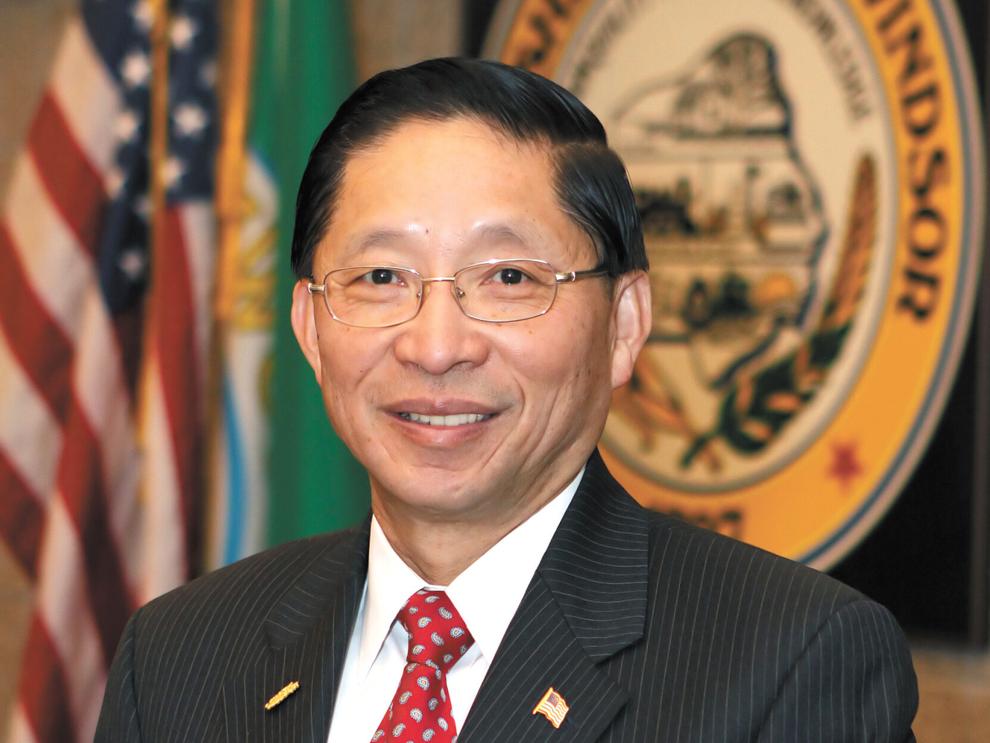 Long-time West Windsor Mayor Shing-Fu Hsueh is set to retire after serving for almost 25 years as an elected official in the township.
For most of those years he was in a position of leadership—first serving as council president for most of the 1990s, and then as township mayor during the 2000s.
Hsueh was elected to public office on West Windsor Council in 1993. His only previous experience in local government was as a member of the township's board of health.
That council was the first under the township's new Faulkner Act mayor-council form of government, and on its first day—July 1—Hsueh was elected to be the West Windsor's first council president. He was also the first Asian elected to West Windsor government, and one of the first Asians to be elected to any office in the United States.
The story of Hsueh's journey to councilman and then mayor began several decades ago on the other side of the world. Hsueh was born in Taiwan in 1944. His father, Cheng-Yuan, was a Japanese-educated engineer and his mother, Ching-Lan, was a homemaker.
He attended the National Taiwan University, where he earned a degree in engineering. After college, Hsueh served a mandatory year of service in the military as a second lieutenant.
In 1969, Hsueh came to the United States to study for a graduate degree at Rutgers University, and received his masters degree two years later. While he was in the military, Hsueh had dated a woman named Shu-Yin Kao (Sue), but left her behind when he went to Rutgers, corresponding with her by mail because long-distance phone calls were too costly.
In 1971, after Hsueh earned his graduate degree, he went back to Taiwan, married Sue, and brought her to America with him.
After earning his doctorate at Rutgers, Hsueh was hired by the state Department of Environmental Protection as a senior engineer specializing in modeling and trying to project future water quality issues.
For 12 years, the family lived in Hillsborough Township and, Hsueh commuted every day to the DEP's Trenton office. The decision to move to West Windsor came in 1984, when Hsueh was becoming increasingly frustrated with his daily commute to Trenton, which had grown from about 30 minutes to almost an hour.
The Hsuehs were driving on Route 571 one day and saw signs for Princeton Oaks, where construction was just starting. They stopped and visited the sales trailer and decided to buy the home in the development, where they still live today.
By 2002, when he decided to retire after 27 years at the DEP, He had worked his way up to become administrator of the Water Supply Administration, managing some 94 employees and an annual budget of some $27 million.
Hsueh's retirement from the DEP came about a year after he was elected mayor, defeating incumbent Carole Carson after she served only one term. His 17 years as the township's top executive official is the longest in the history of the township.
WWP News editor Bill Sanservino, who has known Hsueh for almost 25 years, recently sat down with Hsueh for an extended interview about his years serving West Windsor. The first part of the interview is below. Part two will run in the next issue of the News on Jan. 12.
This interview has been lightly edited for clarity and length.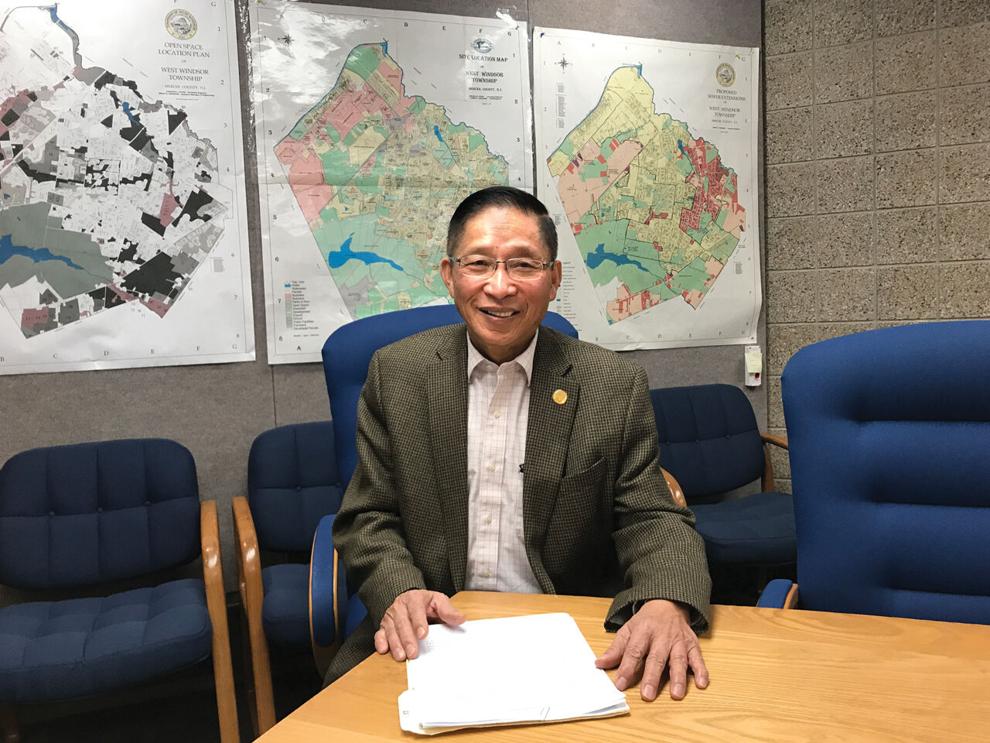 What are some of the ways that you feel you impacted the township the most as an elected official in West Windsor?
First, there are the tangible things. Some examples are the West Windsor Farmer's Market, the West Windsor Art Center, and the history museum and the environmental education center over at the Schenck Farm Estate.
We tried to develop bicycle and pedestrian friendly roadways in West Windsor, and we were the first to have PSE&G allow us to use their easements under the power lines for pathways connecting Community Park with Mercer County Park.
Another is the Alexander Road bridge reconstruction. When I made the decision about the Alexander Railroad Bridge and the roundabout, there was a lot of opposition. But on the day it opened, some of the people who disagreed with me actually apologized to me. They told me that I was right.
Also, I don't believe many mayors would have been able to do things like the realignment of Meadow Road and the cleanup of Grovers Mill Pond.
If they were easy, then mayors before me would have done those things. I think I was able to accomplish all of them because people gave me time. These kinds of projects take time. Nothing can be done in one year, or even four years.
Of course, I still have a lot of projects still left over that I would have wanted to do. I wish I could be a part of them, but I have to learn to be quiet now.
What about the intangibles?
The first time I got elected, I noticed this town is not a community where people could say, "This is my hometown." Everybody would say they live in the Princeton area. But over time it started to change. About four or five years ago, a person who lived in West Windsor for a long time said to me, "Mayor, I used to say I live in the Princeton area, now I always say West Windsor."
I had been planning for a long time to have one of the 365 days in the year to be designated as West Windsor Day, so that people can have a feeling and sense of community. Now we are going to have it next year for the second time.
I also thought about how to build up human relationships and how we can work together. The whole concept of one family, many different faces. I think I've been successful in that respect.
At one point, I started knocking on the doors, one by one, of all the religious leaders in town. After several years they finally came together as an independent group called Religious Leaders of West Windsor.
I wanted to be able to use the churches to bring people together and try to start talking about identity. I think it's important for people of different religions to show respect to each other. I found it to be successful when it came to the mosque that's being built on Old Trenton Road.
Many people opposed it being built, but the other religious leaders spoke for them on their behalf. There were several meetings and a lot of discussion, but in the end it was approved unanimously. I feel very good about that.
I also tried to focus on recreational facilities, especially the parks. When my children were growing up in West Windsor, they had no place to go. If they wanted to participate in sports, most of the time we had to go to other towns. But now it really looks like people have a desire to come to West Windsor to hold tournaments.
We didn't spend taxpayers' money a lot, because I created the whole concept of private-public partnerships. The kids like to have a place they can go to play baseball, basketball and all of the other sports, and parents equally enjoy watching their kids. We were able to accomplish all of this with very minimal expenditures. I've had a good relationship with the county and they have extended some of the open space and helped create more parks.
What are some things that you would have liked to accomplish during your time as mayor, but didn't get to do?
I would have liked to have seen more done with Route 1. In fact, if I didn't get involved in talks coordinating with other mayors in the area in the past few years, the things that are getting done now wouldn't be happening.
We now have consensus from all of the mayors and Princeton University, and finally the state has said they're willing to put around $15 million in the budget for next year to improve the area around the Washington Road intersection. They're going to add additional lanes and turning lanes in both directions towards Princeton and West Windsor, and that will improve the traffic in that area.
I also want them to leave it open so that someday they can build a bridge over Route 1 at Harrison Street to connect Princeton through the Sarnoff property to the train station (the Millstone Bypass). Potentially it could be done, but it probably won't happen for another 50 to 100 years.
Once the state decided to kill the Millstone Bypass, nothing was going to get done there.
Nobody wanted to make the tough decision, particularly (then-governor) Christie Whitman, because she wanted to get appointed commissioner of the Environmental Protection Agency. So she had to play her game.
I don't know if I was in her position whether I would have done that. To me, I really wanted to challenge the environmental groups about the impact of the road. There was no impact. I think it was all made up by Princeton and some environmental groups. Most of them had their own personal interests from Princeton's perspective.
The environmental argument was a fake reason. Unfortunately, I couldn't have a debate with them to talk about technical issues.
The failure to make those kinds of improvements along Route 1 have affected commercial development on the highway. Companies don't want to deal with the Route 1 traffic and are instead locating in towns like Lawrence and Ewing off of Route 95.
That was the reason I tried to push for this. In the beginning, at the start of our transit village redevelopment project, I cut a deal with the state, and they earmarked $178 million to improve traffic around the train station and Route 1.
(Then-councilman) Charles Morgan took the lead to defeat the whole thing. The council voted down the redevelopment plan and the state took the money back.
Local political leaders are so stupid. You know what Charles Morgan said when it was announced we lost the state funding? I still remember to this day. He said, "West Windsor is so important, we have this train station here. The state has to do it."
Stupid. And that is the problem. I think historically, all of the mayors were all under the impression that the state and county will come and do things here. That's not the way it works. You have to go to them. They don't have an unlimited budget. If you don't compete, how are you going to be able to get attention? They don't understand how to deal with higher levels of government.
I can see that kind of mentality with a lot of traditional local politicians. I have been actively involved in working with the county and the state. That's why we got so much.
The Alexander Road railroad bridge, for example. Over $24 million. The state paid 100 percent, including the purchase of some of the property that needed to be included.
You've been lucky with respect to the township police department. There have been no major problems during your time as mayor, and the recent transition from Chief Joe Pica, who retired this year, to Chief Robert Garofalo seems to have gone smoothly.
When I appointed Joe Pica to the chief's position (in 2001), he told me that he wanted to retire at the same time I retired. But then last year he told me he wanted to retire a year before me.
Do you know why he wanted to retire sooner? He said that four years ago, he went through the last [mayoral] election, and he had to deal with complaints from both sides, and politics and a lot of other stuff. He didn't want to have to go through that again.
So, I asked him to stay until July 1 this year. That allowed me to have enough time to talk to people from the police department who wanted to talk to me about the appointment of the new chief. I also picked a few people to talk to randomly. That helped me to understand more about the whole department and then make a decision about who should be the successor.
Joe also helped me with the transition to make sure the organization continued to run smoothly.
I did have a choice between two people, but I decided on Bob. I looked at what this community needs, and the department's culture. I like to focus on good communication between the department and the community, and I think "Garf" was the best choice for that.
What are some of your plans for after you retire as mayor? You have mentioned you want to write an autobiography?
Yes, I feel that I need to write all my personal experiences down to provide inspiration and incentive for future generations.
Another thing I'm looking at is at Grounds For Sculpture. One of the sculptors, who is a retired art professor from the Tulane University, has agreed to have me as his apprentice. So that is something I am considering.
Also, I'm on the transition team for Phil Murphy, the governor-elect.. If I have the opportunity to help at a state-wide level, I would be happy to do it, but we'll see how it goes. We'll see what position I have, and if it fits my personality and what I want to do. If I don't get anything that's fine, but if I can do something for the whole state, I will be happy to.
My wife says she is so afraid of me continuing to be like a teenager. I have a lot of ideas and dreams. But again, that's what life is all about. You just have to have something to do.
You have taught tai chi at the senior center for many years. Will you continue to do that?
I would continue to teach whatever I've been teaching, but not more. I'm moving into the 24th year doing it and I will continue to teach unless my schedule will not allow me to do it.
Everyday I wake up at 6:30 a.m., I do meditation and I practice tai chi and then prepare my breakfast. Then I read the news about this country and Taiwan, because I care about what's going on in Taiwan. Then I come to my office and start my day.
I used to come here day and night, but now I only come in the morning. If there's nothing important, then I will stay home because its quiet. It's so hard to focus on anything here. People and employees always like to talk to me here.
When employees here have a question or a problem they come to me, because they want to hear my advice. I am probably the first mayor—whether there will be mayors in the future like this I don't know—who has always been always available to people, whether it be in engineering, the landscape architect, planner and even some of the inspectors. I'm available to talk to them. I want them to all come together.
That is one of the things I feel really good about. The employees here really share my vision. They try to work with me. I cant say 100 percent, but most of them. I plan to buy lunch for all of the workers here to show my appreciation for them.
Over the years, you have experienced a lot of opposition, both from members of council, and from certain people within the community. I've noticed that despite how diverse West Windsor is, there's still an element of non-acceptance of non-natives. I feel that this reluctance to accept other cultures is part of the reason people have opposed you.
I agree with you 100 percent, because I'm the one who has been the subject of those kinds of attacks. I know you are correct. The reason is because I am different and they don't want me to be the person who is doing the right things.
For example, [community activist] Pete Weale, who I was sorry to see pass away earlier this year, came to a council meeting last year with an American history book. He said, "Mayor, if you have the time I would like to teach you American history." I wanted to tell him, "No, I will teach you American history. Don't tell me that I don't understand America. I probably know more than you do."
That's the kind of mentality that I have seen. He wrote a lot of letters to the newspaper and made comments where he referred to the "Shing Dynasty" and "Emperor Shing." He made quite a few racial remarks in front of me and had no shame at all.
Hopefully at some point everything balances out and in the end they will all come along. This is a democratic system and that's what the system is all about.
That's why I try to talk to a lot of Asian or Chinese newspapers and tell people in those communities that they have to get involved. They can't be afraid.
After 16 years as mayor, I still have to deal with these kinds of people, but slowly, all of this will be changed. It's not going to happen in 5 years or 10 years, but when you look at the future, in 100 years, things are going to be different.
I don't mind. As an immigrant I feel that I have to sacrifice for the future of this country. This is why immigrants are so important. Because we have that mentality. I don't need to fight, I will take it quietly. This is the reason why this country is so great. That's why when I first heard the saying, "Make America Great Again," I said, "You've got to be kidding me." This country is already so great, what are they going to do? You have to make America greater. Very frankly, sometimes I don't know whether Donald Trump is a spy sent by the Communists to destroy this country and destroy our system.
I think my contribution has been that I set examples. Before 1993, there were very few immigrants from Asian countries that ran for public office. I was one of the first ones. Now it's everywhere.
Before I first ran for council, I talked to a lot of my friends in politics. They told me, "Asians are not electable. Don't even dream of getting into politics."
But my son told me to put my name in there, anyway. Just by doing that I had already won.
What is most important in this country is hope. If you work hard, you can do it. Don't believe people who tell you no. Just do it. You'll be surprised.
What kind of message would you like to send to your detractors?
One of the things I wish I could have done was to be able to get some of the people who opposed me to come to me directly and sit down with me one-on-one.
For me to explain to them my view of American values, and what being an American means. They usually tried to stay away from me. They don't want to hear my arguments. Because of their ignorance. When people pretend that they're sleeping, you cannot wake them up, you know what I'm, saying?
A lot of Americans, when they're born in this country, they become lazy. They don't understand so many things. You have to fight and work hard to be successful. They feel that it should be given to them. When they find out so many immigrants are getting ahead, they feel like the immigrants must be getting special protections. That's not the case. You have to work twice as hard.
I haven't shared this yet, but when I write my autobiography, I want to talk about this. One of the reasons I decided to run for mayor of West Windsor is that I got fed up with the racism within the DEP and state government.
I have a PSE in environmental engineering, yet I had to listen to people who had no idea what we were doing. When I told my commissioner that I was resigning, he was shocked.
When I came here, even though I was getting only 15 percent of the salary I used to get, or maybe even less, I felt so good because I was doing things I could only have dreamed about. I finally found out I'm useful to society, and I feel more like an American. Because when people came to me to say, "Thank you, mayor." That makes me feel good.