Kevin G. Chapman scrolled through the Kindle Book Awards page, looking to see if the cover of his book, Lethal Voyage, would appear as the winner of the mystery/thriller category.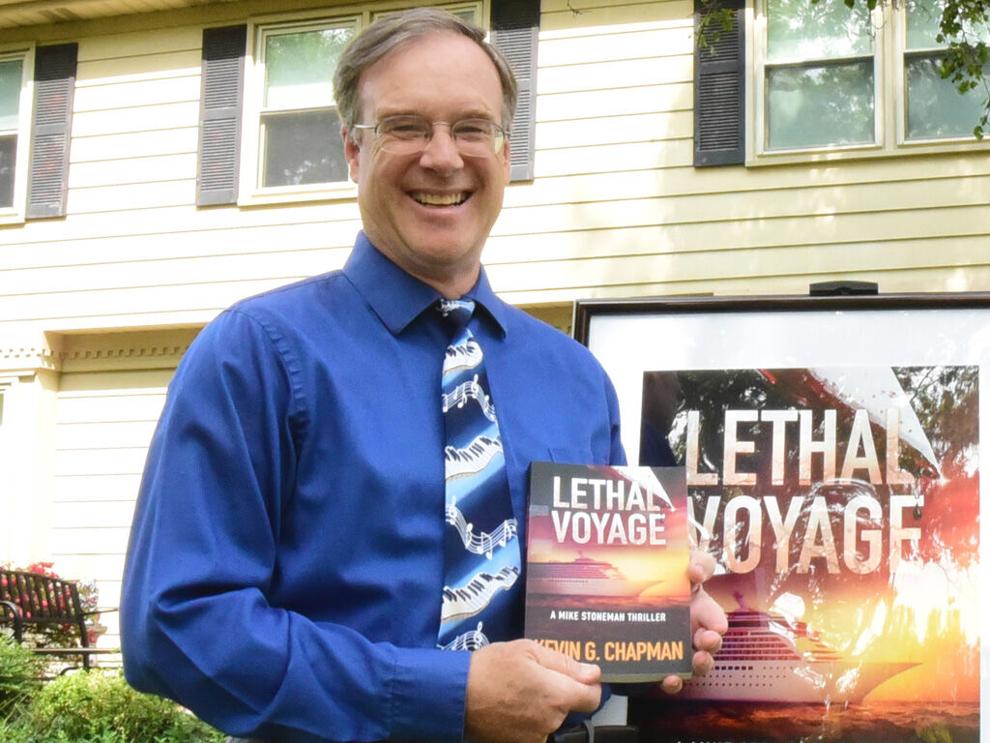 He checked the results with bated breath and was met with the familiar image of a bloody knife, the drops cascading over the title text. He had taken first place.
Announced as one of eight winners in the Kindle Book Review's 10th annual contest on Nov. 1, the third novel in the attorney and author's crime series continues the story of New York City Homicide detective Mike Stoneman.
Accompanied by his partner, Jason Dickson, the two characters tackle everything from cruise line murders to serial killers.
"I've always been a closet author," Chapman says. "COVID has been good for writers. You have nothing else to do, so you spend a lot of time working on your book."
Lethal Voyage is exclusively available on Amazon.com for Kindle, in paperback and in hardcover.
The Mike Stoneman series started in 2018 with Righteous Assassin, succeeded by Deadly Enterprise (2019), Lethal Voyage (2020), and Fatal Infraction (2021). Perilous Gambit, the fifth book in the series, was officially released on Nov. 24.
Chapman and his wife, Sharon, moved to West Windsor from Manhattan in 1995. They have three children—all of whom are graduates of WW-P High School North.
When not writing crime fiction, he works as an attorney specializing in labor and employment law for a major media company.
Lethal Voyage takes place after a shoot-out in the previous novel, landing the duo "in a little bit of hot water," as Chapman describes.
"They've just engaged in an unauthorized operation that resulted in some pretty negative publicity, and so the concept of the next book was [that] the police commissioners tell them they need to make themselves scarce for a while, because the New York press keeps asking questions, and they want them to be unavailable for interviews," he says. "So, the idea was, we're gonna put them on a cruise ship and have them take a little quickie vacation."
The duo embark on a cruise to Bermuda as a means of escaping the media attention, and the chosen location is heavily inspired by Chapman's personal travels—they even go to some of his favorite places on the island.
"My wife and I are huge cruisers," Chapman says. "My wife and I've been to Bermuda 18 or 19 times, several times on cruises, and we love that cruise from New York to Bermuda and back, and we're very familiar with that," he says.
Instead of unwinding on a peaceful vacation with their girlfriends, Stoneman and Dickson have to solve a murder on the high seas.
After the wife of a Broadway theater producer dies in a fall from her room's balcony, the ship's chief of security wants to call the case a suicide.
Evidence soon points towards a suspect, the husband of the deceased woman. But when a female cabin attendant is found in Stoneman's cabin with a knife in her back, no one can deny that there is a murderer on board.
"[I] thought that would be so much fun, almost like a locked-room mystery, where you've got a very confined space, and things are happening, and the mystery has to be solved in a very short period of time with a very confined group of characters who can't go anywhere because they're all on a cruise ship," Chapman says.
While he was writing, though, the world changed, and all cruises were canceled because of the COVID-19 pandemic.
"Nobody's doing any cruising anymore, but we can at least read about a cruise," Chapman says, connecting with the online cruising community. He offered his book as a way of allowing readers to "take a virtual cruise."
In his passion for writing, Chapman did not always opt for crime thrillers. He graduated from Columbia College in 1983, then magna cum laude from Boston University School of Law in 1986. His first novel was written in the late 1990s between jobs.
Laid off from a New York law firm, Chapman had time on his hands, but before Amazon, anyone looking to publish a book needed a publisher—something he did not have.
For their 20th wedding anniversary, his wife offered to have the book published. A company called Xlibris printed them, then gave Chapman the copies, the fruits of his labor and what he called a "fun project" finally realized in a physical edition.
"That was a private investigator story, which is now completely dated, and it's really a remnant of the 1990s," he says, Mike Stoneman still years away from being conceptualized.
Over the course of 12 years, Chapman went on to write A Legacy of One, a book he self-published in 2016.
"It is a wonderful book, and nobody wanted to read it, because it's serious literary fiction. It's a book about politics and morals and self-determination and identity, and it's wonderful, but it's just not a page-turner. If you're into it, it is," he says.
"But I didn't write it in order to make it a best-seller, I wrote it because I needed to write this book." Chapman says.. "I needed to get this book out of my system."
Opting for a more fun and marketable idea, Chapman says, he elevated a short story he had written in 2012 for a themed writing contest sponsored by The New Jersey Corporate Counsel Association. He took a break from A Legacy of One and wrote the "genesis" of Mike Stoneman, and his original draft was 3,000 words over the limit.
Fool Me Twice, went on to win the legal fiction writing competition, so when 2016 and the end of A Legacy of One came around, Mike Stoneman did, too.
"When I said I wanted to go in a different direction, I went back to that character," Chapman says. Book one, Righteous Assassin, helped Stoneman take off, the detective now fronting a five book series.
Despite Lethal Voyage's success, he had trouble finding a literary agent. The experience gave Chapman a unique perspective for the future.
"It's a struggle for independent authors to find distribution for their stuff. That's the biggest downside of being an independently published novelist, is marketing the material is a challenge. I'm much better at writing than I am at marketing," Chapman says.
"So, I said 'alright, well if you're not interested, then I'll just keep going as a self-published author,'" he explains. "People really enjoyed it, so the traditional publishers missed out on the chance to have this one."
The latest book, Perilous Gambit, takes the characters to Las Vegas, his second favorite place, for a wedding and "another road trip story."
But murder always follows Stoneman and Dickson regardless of their jurisdiction, so the pair gamble their luck on another case.
The series could possibly consist of more installments in the future, but for now, Chapman is taking a break from Mike Stoneman, part of which has to do with the timeline of the books finally reaching the beginning of the pandemic—an era he does not wish to write about.
What Chapman is open and willing to do is adapt the Mike Stoneman series into a screenplay, as the books were conceptualized with that medium in mind.
"If you're interested in Mike Stoneman and his adventures, all of the other characters that revolve around him and his story, and you're interested in that, boy I am ready and willing to turn these into screenplays, because they're kind of written in a cinematic style to start with."
"I really like to let the reader watch the story. There's very little narration that's inside the character's heads, it's really much more as if you're behind a camera watching the scene unfold, and so it would be pretty easy to turn them into screenplays, if I could get anybody who loved the stories as much as the readers who post wonderful reviews for the books," he says.
The process for The Kindle Book Award, which Chapman praised, started with judges examining the e-book on Amazon and assessing its cover, book description and preview.
The books that pass that stage advance to a semifinal group of 20, where the books are read in their entirety.
In early September, 20 novels was reduced five, and a rejudging period began. The overall winners, like Lethal Voyage, were then announced at the beginning of November.
"It was really cool. You make the list of semifinalists, and you'd say okay, that's good, that means the book doesn't suck," Chapman says. Both Righteous Assassin and Deadly Enterprise placed in the semifinals at the 8th and 9th Kindle Book Awards, respectively.
"But neither one made it to the final stage, so I was very psyched when Lethal Voyage showed up on the list of the five finalists," he said, an excitement that grew even more palpable once the book ultimately won.
As its third honor thus far, Lethal Voyage was also a finalist in the top five for the Chanticleer Book Review's CLUE Award, as well as a finalist in the top six for InD'Tale Magazine's RONE award. Chapman also narrated the audiobooks for the entire series himself.
"I think it is interesting listening to the author narrate their own book," he says.
The audiobooks are more widely available than the paperback editions and can be found on different platforms—like Audible, CHIRP, Apple Books, Google Play, Nook and other retailers.
While the days of physical book signings are over, Chapman's website, kevingchapman.com, ships out autographed paperback copies of his books with personally inscribed messages. The award-winning author has developed a steady following for his work.
"I'm happy to keep doing them as long as people keep reading them and telling me that they like them. So far, the audience that I'm building seems to really like them. It's nice for me to know that I'm not doing it just for myself, which I kind of was doing with A Legacy of One, the great American novel. I really wrote that just for myself," he said.
"These books, I am finding, are for everyone, and it's a lot of fun."