Once Caleb Kasof decided he wanted to play baseball just for the fun of it, he got better than ever.
Entering the NJSIAA Central Jersey Group IV sectional tournament, the West Windsor-Plainsboro South senior has been one of the Colonial Valley Conference's top pitchers this year.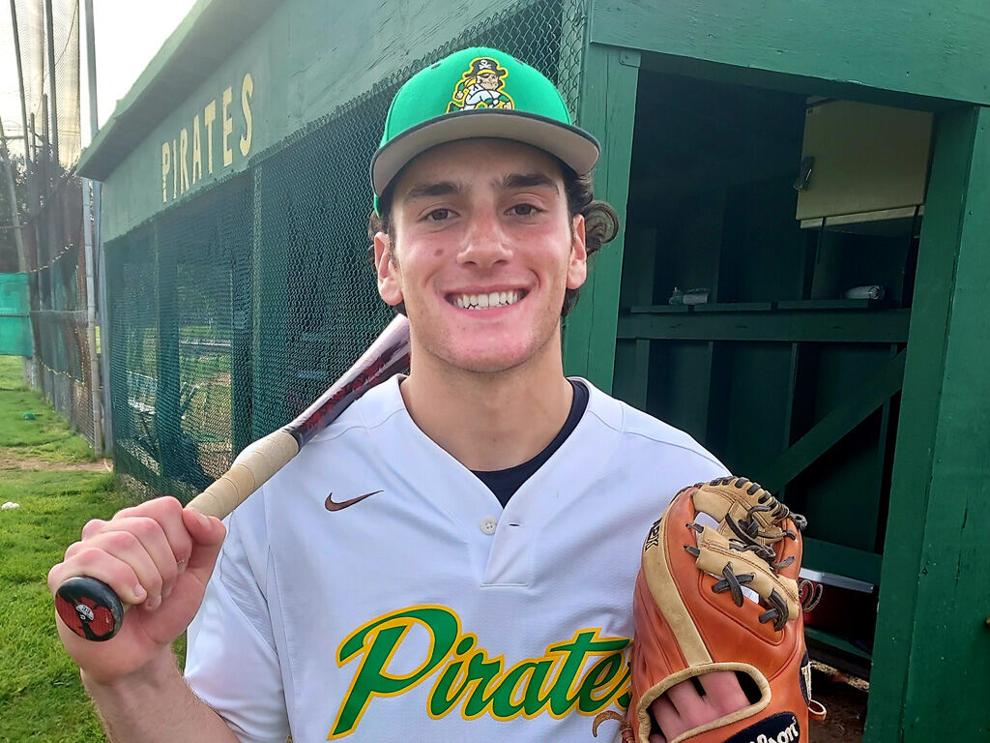 Through the Pirates 10-6-1 start, Kasof was 4-1 with a 2.04 earned run average and 32 strikeouts in 34.1 innings. He had walked just 11 and allowed 18 hits, giving him an impressive WHIP of 0.85.
Kasof has also been one of the Pirates leading hitters with a .375 batting average and .600 slugging percentage. Caleb was 15-for-40 with three doubles and three triples after 17 games. .
He has accomplished all this without the benefit of playing travel ball the past two years. The talented two-way threat just wanted the game to be more laid back and fun.
"I decided a couple years ago I didn't want to play college baseball, I didn't want the commitment," said Kasof, who will major in business at the University of Wisconsin. "I was playing on Sportico/Gallagher travel team the summer after freshman year.
"All summer we were traveling and going to tournaments. I went to the Perfect Game Tournament in Georgia, and we were just traveling all over. At the end of the summer I realized I don't want to do this all four years of college. It was just too much of a commitment. I just decided I wanted to have fun playing with my friends. After that one summer I quit playing travel ball."
And while some kids love traveling all over and having non-stop games, others, like Kasof, need a break. And he has enjoyed high school ball more ever since.
"Definitely," he said. "I think the best part is most of the kids on our varsity team are seniors. I grew up with all of them so it helps that I get to play with my school friends."
Kasof began playing T-ball at age 5 and moved on to the West Windsor Little League before going to travel ball. He started with the West Windsor Warriors before jumping to Gallagher for four years.
After playing JV as a freshman, Kasof and the rest of high school sports were shut down due to Covid. Caleb became a varsity starter his junior year and went 3-3 while fashioning a 1.58 ERA and striking out 39 in 31 innings. He did not walk a batter.
That performance geared him up for 2022.
"I felt pretty confident coming into this year," the right-hander said. "Considering it was my senior year I felt I had a lot of preparation coming up to this. But I definitely didn't expect to be pitching how I'm pitching so far and having the success I've had."
Kasof did hit a speed bump, however, which came in his second start of the season on Apr. 19 at Trenton Thunder Ballpark. After allowing five walks and six runs (three earned) against Nottingham in the season opener (which WW-PS won in extra innings), Kasof was having further struggles with the Pirates arch-rival. He allowed seven runs (two earned) and five hits in 3.2 innings although WW-PS pulled that one out as well.
"We had a little talk after the Trenton Thunder game," coach Justin Ely said. "I think he faced a little more adversity than he expected. It's because he got beat on some 0-2 pitches, left them up a little bit. He didn't bury his curveball the way he should. After that he took to the pen and kind of focused and worked on it and you see the results."
Through his next three starts Kasof allowed just two runs (one earned) and four hits in 20 innings while striking out 24. He threw a no-hitter against Hamilton, which as of May 22 was 16-7 and seeded third in Central Jersey Group III, and a one-hitter against Steinert in the Mercer County Tournament semifinals. The Spartans are 18-6 and seeded first in CJ III. Both games were shutouts.
Kasof also beat Hopewell Valley in the first round of the MCT. Despite falling behind 2-0, he gutted it out, kept the Pirates in it and got the win when WW-PS had a sixth-inning uprising.
The metamorphosis after the WW-PN game was amazing.
"I kind of changed my approach basically for the season," he said. "I went into that game and there were just a couple bad pitches that cost me a lot of runs. One missed spot with my fastball and someone hit an inside the park home run. And then one missed spot and they hit it for a triple."
Instead of sulking, Kasof went to work on fixing things.
"After that I started throwing a lot more curveballs and locating my pitches a little better and it kind of took off from there," he explained. "I definitely was throwing my curveball. But I kind of went into the (WW-PN) game relying too much on my fastball, they timed it up well and they had some big hits.
"From then on I made sure to mix up my pitches, always keeping them off-balance. I think that's why I've had so much success. They don't know what's coming. It keeps them off balance and they hit slow ground balls or pop flies."
Kasof met his match in the MCT semifinals, when he yielded six hits, three walks and six runs (four earned) in 4.2 innings as the eventual champion Raiders took a 6-0 victory.
"In the Hun game I went in thinking I had to keep them off-balance," Kasof said. "The first inning there was an unlucky error but it was all ground balls. Then it was a couple pop flies and later in the game they started timing me up and were getting their hits."
It's no shame losing to Hun, which has five Division I players on its roster. Caleb actually took some things from that game.
"It was definitely a learning experience," he said. "That was really only the first time I faced kids of that caliber. It shows how focused you have to be in those situations. I made one bad pitch to (Kentucky commit) Carson Applegate and he hit a two-run home run. It just shows how consistent you have to be with your pitching."
His consistency was masterful against Steinert, which was seeded third while WW-PS was the sixth seed. He tossed a one-hitter with no walks and seven strikeouts in six innings as the Pirates won 10-0.
"I was not expecting that," Kasof said. "I definitely thought we could battle them, but I was not expecting us to mercy them. It was all because we had a lot of energy in that game and never stopped putting up runs. I was really feeling my curveball and I was mixing my pitches well and they didn't really hit anything hard, so we were able to make the plays."
West Windsor's biggest issue this year has been making plays; as errors have been a problem in the losses and also made things difficult in some wins. Ely constantly preaches that if his team gives itself a chance to be in games by not making mistakes, they can win them.
It will be interesting to see what happens in the states. Before anything was made official, it appeared that WW-PS would be the 14th seed and play third-seeded Jackson Memorial.
In baseball, however, more than any other sport, upsets are not uncommon in the first round. Teams could be seeded low, but have one truly good pitcher that could knock off a higher seed. The Pirates have just that in Kasof, who has proven to be tough in high-pressure games.
"I think I definitely excel in those, especially when we're in tough situations; I always find a way to get out of it," Kasof said. "In the first inning against Steinert they had two runners in scoring position and I got out of it. From there it was non-stop. When you get out of situations like that it boosts your team and gives you a lot more confidence."
Ely feels his hurler has just the right make-up to face such confrontations, saying ""It seems like he faces new challenges each game and continues to overcome them. He is comfortable being uncomfortable."
He is also comfortable in the classroom, as Caleb has a 3.8 grade point average and is a member of the National Honor Society.
"I always put school first," he said. "I think I always try to do the best I can in school and study pretty hard to maintain good grades That's what my parents pushed."
And while Kasof doesn't mind being pushed to do well in the classroom, he has proven to be a stud on the baseball diamond when it's more a case of just having fun.