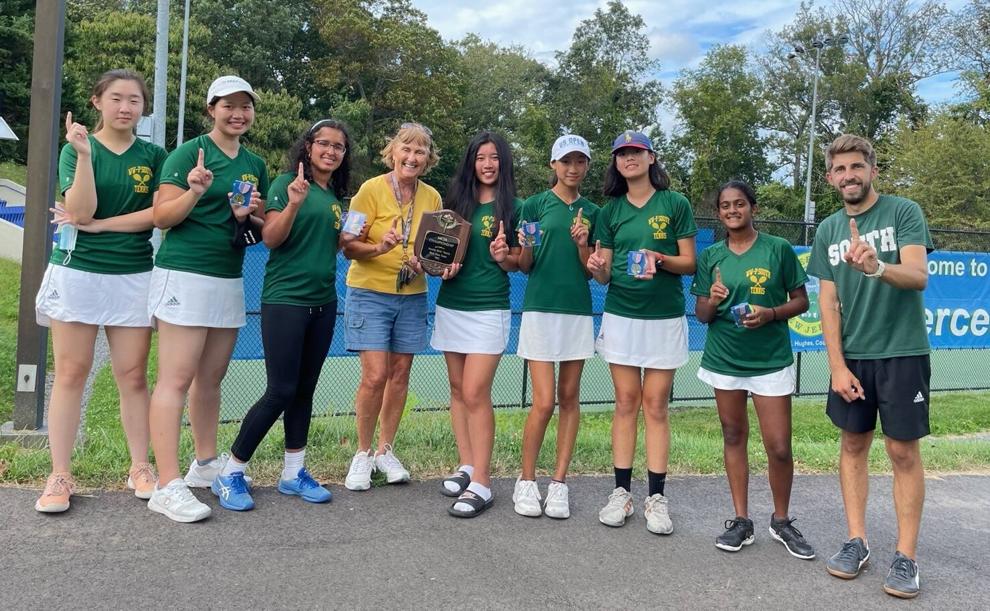 Despite having their seasons shut down by COVID-19 last year, the girls' tennis teams at high schools North and South have hardly missed a beat this season.
The Northern Knights got off to a 7-3 start that included wins over Moorestown and South in the Moorestown Classic. Unfazed by losing to their rivals, the Pirates came back on Sept. 22 to win their first Mercer County Tournament championship since 2015. The Northern Knights finished second by 3-1/2 points.
While six years might not seem like a long time for some programs, not winning the counties for that long was a drought going by South's standards.
"For us it is a long gap ,because we had a steady run of winning for five or six years in a row," coach Carla Crawbuck said. "It's nice to get it back. It was fun, it was exciting. We were really pleased to do that."
First doubles player Melissa Liu was pleased to finally experience the win after four years. "I am so proud of us and am very excited for the rest of our season," Liu said. "As a senior, I am happy to have this great win to end off my time here."
The Pirates claimed two flight championships, as freshman Rasika Anandakumar won second singles and the "AZ" duo of sophomore Anna Zhao and junior Amy Zheng claimed second doubles. Alyssa Yang took second at third singles, while Prisha Priyadarshini was third at first singles.
"Our second doubles are good," Crawbuck said. "They lost a very, very close match to North in the Moorestown Classic and then turned around and beat them in the tournament. That was really big for us. Prisha is doing a good job holding that number one spot, I have a good number two and number three at singles."
As for first doubles, Liu was undaunted at not placing in her flight with partner Eliana Du in MCTs, figuring the experience will help over time.
"We lost to the North players (Sabrina Chang and Kirthi Chigurupati) in the second round," she said. "In the other seasons, I played second and third singles and made it to finals. I think doubles is a such a different dynamic and Eliana and I learned so much from that match. I love playing with her and I'm glad that I get a chance to experience doubles at least once."
The Pirates were 7-2 as of Sept. 28 and had a first-round NJSIAA Central Jersey Group IV tournament game scheduled at home against Freehold Township Sept. 30. WW-PS was seeded seventh, and a win over Freehold would pit them against second-seeded East Brunswick Oct. 5.
Marlboro is the top seed and in the opposite bracket.
"I think we can made a decent run in states," Crawbuck said prior to the Freehold match. "I don't know if we have enough to win the section. I heard that Marlboro is really tough."
As for North, the team drew the top seed in Central Jersey Group III and hosts the Middletown North-Jackson Memorial winner on Oct. 5. The Northern Knights seed was a pleasant surprise for coach Richard Arnold
"We've got one little obstacle," Arnold said a day before the seedings came out. "We lost to Princeton at our place, so I'm imagining they will be seeded ahead of us."
They were not, however, as WWPN had the most power points in the section. Hightstown is seeded second and the Little Tigers are third, meaning West Windsor would not meet either of them until the finals.
"If Princeton is on the opposite side of the draw that's good," Arnold said. "I think we can get through everybody else. Red Bank Regional beat us in 2019, we beat them 2018. I think that's our biggest obstacle other than Princeton."
Red Bank is seeded fifth and the two would end up meeting in the semifinals if they advance.
WWPN has looked solid with a 7-3 record as of Sept. 28. Its three losses were to Kent Place, Lawrenceville and Princeton, which had a combined record of 16-1 at that point. The wins over WW-PS and Moorestown were both impressive.
"South is a well balanced team, and I think we may have beaten Moorestown like, one time, since 2014," Arnold said. "We always lost to Moorestown, so that was a good win. Kent Place is the third best team in the state and Lawrenceville is really good. So those out-of-conference matches are good for us."
As for the MCT, North got a gutsy performance from sophomore third singles Jayani Velsamy, who won her flight by defeating Yang, 7-6(2), 6-7(4), 7-5 in a marathon match.
"The reason we finished second was our third singles girl," Arnold said. "She wasn't cramping but she had issues with her body. She played almost four hours and pulled through to put us in second place. If she lost we would have been in third behind Hun.
"Jayani has been our salvation. She's won 90 percent of her matches. She's like a steady guaranteed point unless we're playing a superstar team."
Arnold is looking for No. 1 singles Riya Patmidi and No. 2 Megan Chung to step up their game for the states. The Knights are solid at doubles, as Chang-Chigurupati and Aleesha Ilahi-Anjali Vemuri reached the MCT finals.
"We've got talent," Arnold said. "But they've got to believe they can win. They can't get down on themselves. When we get to states, they're going to have to earn it."